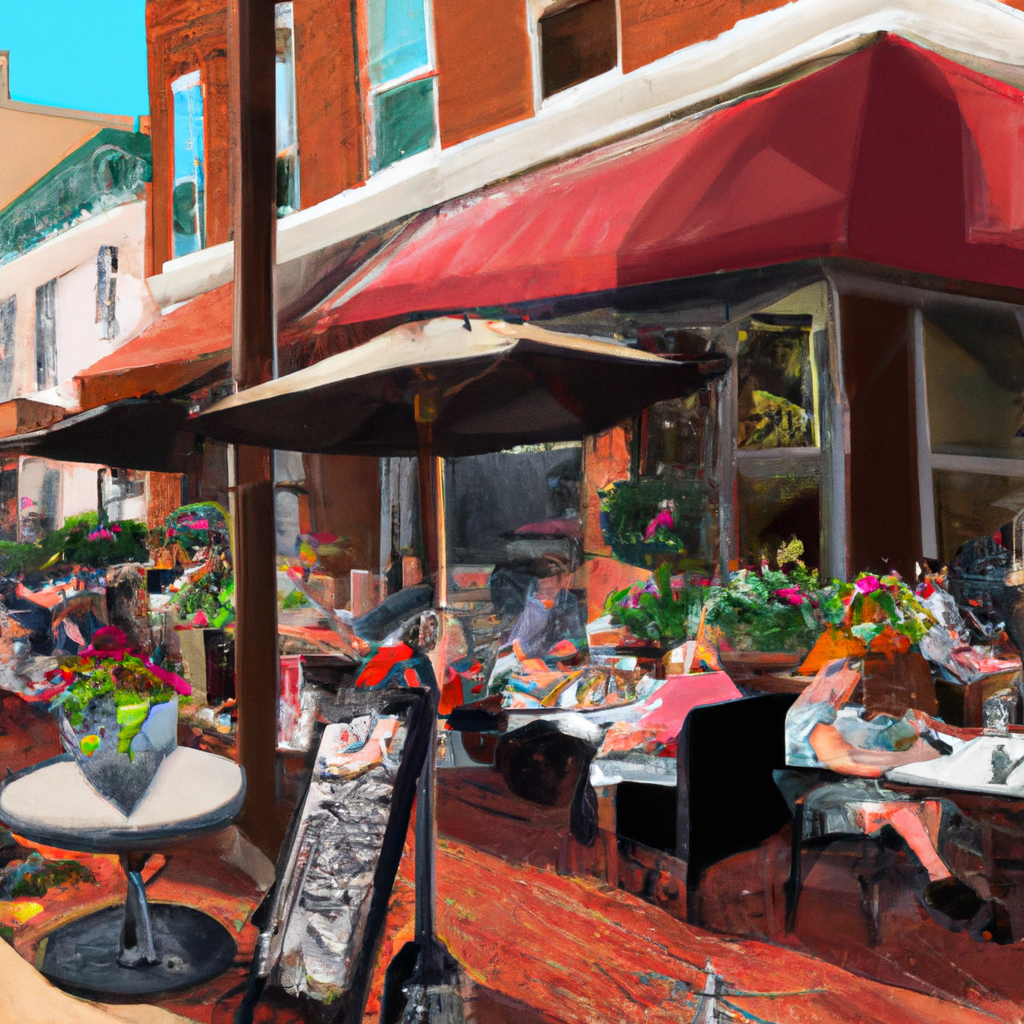 Top-rated restaurants in Frederick MD
Indulge in the Best Food Scene in Frederick, MD
Frederick, MD is home to some of the most opulent and appetizing restaurants that are frequented by locals and tourists. A delectable paradise, Frederick boasts an array of top-rated restaurants that cater to different tastes, preferences, and budgets. Continue reading to unveil the top dining establishments in Frederick, MD.
Top-rated Restaurants in Frederick, MD
Looking for the top-rated restaurants in Frederick, MD? Look no further! Here is a list of the best dining establishments that Frederick has to offer:
Magoo's Pub & Eatery: A casual establishment that serves delicious traditional American fare with live music performances every weekend.
Black Hog BBQ: A popular joint that cooks up lip-smacking Southern-style barbecue dishes that will leave you craving for more.
The Wine Kitchen: A classy restaurant that boasts an extensive wine list and serves American and European-inspired cuisine made from locally-sourced ingredients.
Firestone's Culinary Tavern: A charming spot that offers a unique blend of French and American cuisine, combining classic flavors with modern twists.
Volt: A high-end restaurant that provides an extravagant culinary experience through innovative dishes and carefully curated wine pairings.
Relish the Gastronomic Marvels in Frederick, MD
Apart from the top-rated restaurants in Frederick, the city also offers a diverse food scene that includes food trucks, farmer's markets, bakeries, and coffee shops. You can also indulge in ethnic cuisines, such as Mexican, Japanese, Indian, and Italian. Frederick is a hub of gastronomic marvels that cater to every palate.
Make the Most of Your Dining Experience in Frederick, MD
If you want to make the most of your dining experience in Frederick, here are some suggestions:
Try the local craft beers that the restaurants offer.
Visit the farmer's markets to get a taste of the fresh produce that the city has to offer.
Opt for the tasting menus offered by the high-end restaurants to get a full-fledged experience of the culinary expertise.
Make reservations in advance as the restaurants can fill up quickly during peak hours and weekends.
Talk to the servers and the chefs to learn about the restaurant's specialties and get personalized recommendations.
Fine dining? More like fine whining about the prices. But hey, at least you'll have a fancy Instagram post to show for it.
Fine dining restaurants
Frederick's restaurants have a rep for being high-class. They have amazing meals and a great atmosphere! You can try French-style dishes, American cuisine, and more – all made with the finest ingredients and served with top-notch service. Plus, the wine lists are excellent – perfect for any special occasion, or just a luxurious night out. Make sure to book ahead though, as these restaurants fill up quickly. If you're looking for something more casual, Frederick MD has plenty of dining spots that won't break the bank.
Casual dining restaurants
Searching for casual dining in Frederick, MD? You're in luck! The city boasts restaurants with yummy food and a chill vibe. Whether you're seeking classic American dishes, ethnic cuisine, or something new and creative, you'll find the perfect place.
Many eateries feature outdoor seating, live music, and happy hour specials. Try out the local favorites, like shrimp and grits at Ayse Meze Lounge or burgers at JoJo's Restaurant & Tap House.
For an unforgettable meal, head to one of Frederick's top-rated casual restaurants. Want to travel the world with your taste buds? Check out the ethnic restaurants in Frederick MD!
Ethnic restaurants
Experience the amazing flavors of the world in Frederick MD! You can find:
Asian Cuisine: Japanese, Chinese, Korean, Thai!
Middle Eastern: Check out the herbs and spices of the Levant and Mediterranean.
African Dishes: Try stews and curries from Ethiopia or grilled meats from South Africa.
Latin American Eats: Enjoy Mexican tamales, Peruvian ceviche, or Salvadoran pupusas.
Vegetarians and vegans can rejoice too! Many ethnic restaurants offer yummy meals like lentil soups, hummus platters, or tofu stir-fries. Additionally, you can learn about different cultures through their culinary traditions while sharing meals with loved ones.
You won't want to miss out on this! Did you know Frederick has one of the highest concentrations of Ethiopian restaurants per capita in the US? (Source: The Washington Post)
Make brunch even better with one of the amazing restaurants in Frederick MD!
Best places for brunch in Frederick MD
In Frederick MD, satisfy your brunch cravings with the finest food offerings in the area. Treat yourself to the most delectable options available, suitable for any taste buds.
Experience brunch at its finest in Frederick MD with these top three places:
Indulge in sophisticated brunch dishes at VOLT.
Savor country-style brunch at Dutch's Daughter Restaurant.
Enjoy French-style brunch options at Le Parc Bistro.
If you seek more than just a great brunch, explore the chic and modern atmosphere at VOLT, which features rotating menus that incorporate western cuisine. Freshness and exceptional flavors await you.
Did you know that VOLT, a renowned establishment best known for its appearances on hit television shows, successfully combines local ingredients and culinary artistry to create their outstanding dishes?
Experience culinary bliss in Frederick MD with their diverse brunch menus.
Start your weekend off right with brunch options that'll have you feeling more satisfied than a Friday night bar crawl.
Brunch options in downtown Frederick
Are you in search of a brunch spot in the heart of Frederick? Good news – there are plenty of options!
The Wine Kitchen boasts an extravagant wine list and locally sourced gourmet cuisine.
Cafe Nola has an artistic and trendy vibe with seasonal menu items.
Family Meal has scratch-made biscuits and gravy.
Hootch and Banter is a modern gastropub with a relaxed atmosphere and a bottomless mimosa or Bloody Mary bar. Plus, these restaurants have outdoor seating!
And if you're feeling adventurous, visit Flying Dog Brewery for their 'Brunch & Brews' event – craft beer and pastries with live music!
No matter your style, there's something for everyone in downtown Frederick. Why not give one (or all!) of these places a try? Get some fresh air with your brunch and enjoy the sights of people walking by.
Outdoor seating brunch places
Are you in search of a wonderful brunch experience outdoors in Frederick MD? Here are some amazing restaurants with outdoor seating for you to try!
La Paz Mexican Restaurant & Cantina – Offers classic Mexican brunch dishes such as huevos rancheros, plus a stunning outdoor patio with succulent plants.
The Wine Kitchen on the Creek – A stylish eatery by Carroll Creek with scrumptious egg benedict dishes and champagne cocktails. Enjoy your meal outdoors!
Lucky Corner – A Vietnamese café with traditional but innovative dishes like banh mi and pho. Enjoy your food under beach umbrellas!
Hootch and Banter – Cozy spot with craft cocktails and a lovely outdoor sitting area to try their amazing home-style breakfast options.
These locations not only serve delicious meals, but they also give you the chance to be at one with nature's beauty. Book a table and enjoy the sun's warmth while you savour some unforgettable food!
Frederick MD's hidden gems for foodies
In Frederick MD, foodies can uncover delectable hidden gems that tantalize their taste buds. These upscale eateries with their unique flavors and chic ambiance offer a feast for the senses.
Here are a few Frederick MD hotspots for foodies to savor:
Firestone's Culinary Tavern: A chic restaurant with a stunning bar and charming outdoor seating. Diners can enjoy an array of scrumptious dishes including delectable crab cakes, succulent steaks and classic burgers.
The Wine Kitchen: A cozy, stylish restaurant that boasts a superb wine selection. The menu features globally-inspired dishes inspired by fresh seasonal ingredients.
Ibiza: A trendy eatery that offers delicious Spanish cuisine and traditional tapas. Diners can delight in seafood paella, succulent grilled meats, and iconic Spanish concoctions such as sangria and vermouth.
VOLT: Frederick's haute-cuisine destination which creates stunning modern American dishes using ingredient-driven techniques.
Besides these hidden gems, the city also prides itself in its history of wine-making. Picturesque vineyards and inviting tasting rooms dot the landscape and offer memorable experiences.
To make the most out of the foodie adventure, it is suggested to book a table ahead of time, explore the diverse culinary scenes, and try new dishes with an open mind to indulge in Frederick MD's one-of-a-kind dining experience.
Size doesn't matter when it comes to flavor at these hole-in-the-wall restaurants in Frederick, MD.
Hole-in-the-wall restaurants
Are you looking for a one-of-a-kind dining experience? Off-the-grid restaurants are the perfect places to explore! These small gems offer vibrant culture, locally sourced ingredients and delicious authentic food styles.
Moreover, these holes-in-the-wall provide healthier diet options since they use fresh, organic ingredients. Plus, their menus vary, giving you the chance to try new tastes and cuisines from around the world.
What's more fascinating is that some places may have unique quirks. For example, they may require you to leave your phone behind or share dishes with other diners at communal tables.
Speaking of holes-in-the-wall, did you know that the term was initially used to refer to cash machines? The name began with small ATM locations located in the sides of stores which were known as 'hole-in-the-wall' machines.
Also, don't let the term 'food truck' mislead you. Frederick MD's food truck hotspots serve up amazing meals that will make you feel more satisfied than when eating at a sit-down restaurant.
Food truck hotspots
Taste buds rejoice! Frederick MD is bursting with diverse street-food treats. From savory tacos to scrumptious cheesesteaks, discover hidden gems that tantalize your taste buds.
Tick off these items from your foodie bucket list:
Say Cheese! Food Truck's dumplings.
Ja & Co Jerk Chicken and Catering's authentic Jamaican flavor.
Java Cruiser food truck's exotic Indonesian dishes.
The Hog Boss BBQ food truck's BBQ sauce with pulled pork or chicken.
Misfit Foods food truck's vegan hotdogs and burgers.
LAB Bubble Tea Cafe Truck's refreshing bubble tea.
Plus, don't forget homemade ice creams and freshly made funnel cakes. Complete your gastronomical adventure by exploring Frederick MD before time runs out.
Specialty restaurants in Frederick MD
Specialty Restaurants in Frederick MD offer a diverse and unique dining experience. These eateries are known for their exclusive menus that cater to specific cuisine types or dietary needs.
One of the specialty restaurants in Frederick MD is a farm-to-table concept that sources fresh, local ingredients for its dishes.
Another restaurant specializes in vegan and vegetarian cuisine with a menu that is both delicious and healthy.
A seafood restaurant boasts fresh catches and a menu that highlights regional seafood favorites.
A barbecue joint offers smoked meats and traditional sides for meat lovers.
Lastly, there is a French restaurant that serves classic dishes for a more refined palate.
For a unique experience, diners can check out the underground restaurant scene in Frederick. These intimate venues require reservations and often offer multi-course menus that change regularly, making for an exclusive and exciting dining experience.
Pro Tip: Make sure to make reservations at specialty restaurants in Frederick MD in advance, as they tend to fill up quickly.
Just because you're a vegetarian or vegan doesn't mean you have to suffer through boring salads – Frederick MD has plenty of options to keep your taste buds happy.
Vegetarian and vegan restaurants
Are you on the hunt for vegan or vegetarian food in Frederick MD? Check out these top picks!
Rooted – A spot that serves up a range of vegan and vegetarian dishes.
The Orchard – Scoop up meat-free burgers, hummus wraps, and smoothie bowls at this wholesome spot.
Gravel and Grind – This bike store and cafe has a plethora of vegan eats, from classic recipes to creative concoctions.
Pretzel & Pizza Creations – As well as regular toppings, they offer vegan cheese and protein like tofu and tempeh.
Zoe's Kitchen – Get your fill of vegetarian Mediterranean plates like salads, pitas, and kabobs at this fast-casual joint.
These restaurants don't just cater to veggies, but also provide gluten-free, organic, and farm-to-table options. Plus, it's said that the first-ever veggie restaurant opened in London in 1889, by Dr. Thomas Allinson. He believed in the power of a plant-based diet for good health, and opened the eatery to promote healthy eating. So, folks with gluten allergies can still have a blast at Frederick's specialty restaurants!
Gluten-free options
Family-friendly restaurants in Frederick MD offer gluten-free options beyond the usual salads and plain proteins. Specialty chefs and staff are knowledgeable about cross-contamination and take precautions seriously.
Choose from a variety of cuisines, such as Italian and Asian. They offer gluten-free alternatives like bread, pasta, and pizza crusts. Plus, there are appetizers, desserts, and specialty cocktails with gluten-free ingredients.
These places prioritize quality ingredients. They also provide wine or beer flights paired with gluten-free menu items.
As awareness of dietary restrictions increases, these restaurants are adapting to meet the demand for gluten-free diets. So, if you're looking for family-friendly places that provide delicious gluten-free options, Frederick MD is the place to go!
Family-friendly restaurants in Frederick MD
In Frederick MD, there are various eating places that cater to families. These restaurants are designed to meet the needs of families looking for a pleasant dining experience.
Most family-friendly restaurants in Frederick MD offer a wide range of healthy food options for kids, including vegetarian and gluten-free options.
The restaurants have high chairs and booster seats available for little ones, ensuring their comfort during meals.
Family-friendly restaurants offer play areas for kids to keep them entertained while their parents enjoy their meals. Some restaurants even organize special events for kids.
These places have a welcoming atmosphere that makes families feel comfortable and relaxed.
Notably, some of these restaurants also have private dining rooms that can be booked for family gatherings and special occasions. These private dining rooms create an intimate setting that allows families to spend quality time together while enjoying a delicious meal.
It is worth noting that many family-friendly restaurants in Frederick MD invest in training their staff to provide friendly and professional customer service. The staff members often go above and beyond to ensure that families have an enjoyable dining experience.
Here are some suggestions for family-friendly restaurants in Frederick MD.
The Family Meal: This restaurant offers a farm-to-table dining experience, with a menu that caters to both kids and adults. They also have a play area for kids and an outdoor dining area that makes it easy for families to dine together.
Beans in the Belfry: This restaurant is situated in a historic church and offers a relaxed and friendly atmosphere. The menu caters to both kids and adults, and they have a play area for kids.
Family Mealtime: This restaurant is perfect for families looking for a fun-filled dining experience. It offers a range of healthy food options and play areas for kids to enjoy. The staff members are friendly and accommodating, ensuring that families have an enjoyable time.
These restaurants provide a fantastic atmosphere for families to bond over food and make lasting memories. Their dedication to serving families demonstrates that they value their customers, making them stand out in the competitive restaurant industry.
It's never too early to introduce your kids to the joys of questionable food choices at these Frederick restaurants with kid-friendly menus.
Kid-friendly menus
Restaurants that offer menus suitable for children are a great attraction for families. Parents look for "family-friendly" menus. These might include macaroni and cheese, pizza, chicken tenders, sandwiches and salads.
Four key points of kid-friendly menus:
Smaller Portions – Satisfy children whilst saving money!
Bright Colors – Kids like colorful foods, more appealing to the eyes.
Interactive Menus – Pictures or mascots can excite kids.
Diverse Options – Keep your child interested in meals.
Did you know? Placemats with games or puzzles can help families find new eateries. Plus, it builds anticipation around mealtime.
When trying a new restaurant, ask the server about dishes not listed. Ordering family-style allows everyone at the table to enjoy different cuisine together. Don't forget to share apps!
To make dining out enjoyable for all, restaurants focus on menu variety and ambiance. With these key factors, parents can relax and have fun with their little ones! Let your kids become mini MasterChefs at Frederick MD's family-friendly restaurants.
Activities for kids in restaurants
Restaurants with kid-friendly activities make for a welcoming experience for families of all sizes. Here are five ideas to keep the kids occupied while they wait for their food:
Coloring station with sheets and crayons = creative outlet
Board games + puzzles = problem-solving fun!
Reading corner/library with children's books = literacy development
Craft stations for jewelry making or painting = artistic expression
Interactive dining experiences = build your own pizza or decorate your own cupcakes
Plus, some restaurants have outdoor play areas with swings and jungle gyms. And, if your child needs a break between courses, you can request a tour of the kitchen! It's an exciting distraction and educational too.
For the best experience, plan ahead. Check if reservations are needed or if there are age restrictions on certain activities. When you prioritize establishments that cater to families, dining out can be a blast for everyone.
Frederick MD's top-rated bars and breweries
With its diverse offerings of bars and breweries, Frederick MD is the perfect destination for those seeking an exceptional dining experience. From craft beers to artisanal cocktails, there is no shortage of options available to those looking for a night out on the town.
Frederick MD is home to a variety of top-rated bars and breweries, including Attaboy Beer, Olde Mother Brewing Co., Idiom Brewing Co., Barley and Hops Grill & Microbrewery, and Rockwell Brewery. Attaboy Beer is renowned for its signature IPA, while Olde Mother Brewing Co. offers a variety of unique sour beers. Idiom Brewing Co. is a popular destination for craft beer enthusiasts, and Barley and Hops Grill & Microbrewery offers both excellent food and beer. Finally, Rockwell Brewery is known for its creative and unusual offerings, such as their Peanut Butter and Chocolate Porter.
In addition to their impressive drink menus, Frederick MD's top-rated bars and breweries often feature live music, trivia nights, and other events. At Olde Mother Brewing Co., patrons can enjoy outdoor seating and food trucks on Fridays and Saturdays, while Barley and Hops Grill & Microbrewery hosts regular open mic nights. Some breweries also offer tasting events, giving customers the opportunity to learn about and sample new beers.
One regular at Rockwell Brewery recalls a fantastic night spent sipping on their unique brews while enjoying a local band's live performance. The relaxed atmosphere and friendly staff made for a memorable experience, and after trying several of their beers, she left as a newfound fan of peanut butter and chocolate porter.Who needs Cupid when you have a good cocktail? These Frederick bars know how to pour love into every glass.
Best bars for cocktails and wine
In Frederick, MD, seeking the best spots to savor a yummy cocktail or sip on wine? Look no further! Whether you're craving a complex mixology experience or just a glass of fine wine, there's something for everyone.
The Wine Kitchen on Carroll Creek serves up scrumptious cocktails, plus an expansive selection of wines.
The Tasting Room offers unique, flavorful cocktails and wine flights.
Café Nola concocts delicious cocktails with local produce.
Bushwaller's Irish Pub has an inviting atmosphere with beer and wine.
Some restaurants also offer great cocktails from their signature cuisine. Or if you're after something chill, The Blue Side Tavern has creative twists on classic cocktails.
Pro Tip: Check out the happy hour specials! And for a sun-filled day, visit those local breweries with outdoor seating – cold beer and hot views.
Local breweries with outdoor seating.
Monocacy Brewing Co. has a great outdoor area with views of the nearby hills. Flying Dog Brewery has a large outdoor space, with tasting flights and food trucks. Idiom Brewing Co. has an inviting outdoor area with fire pits, games, and plenty of seating. Plus, some breweries offer patio service – lounge chair style! Remember to pack your sunscreen and shades when visiting these outdoor breweries for some Vitamin D and delicious beer.
Frequently Asked Questions
What types of cuisines are available at Frederick MD restaurants?
Frederick MD restaurants offer a diverse range of cuisines, including American, Italian, Chinese, Mexican, Japanese, Indian, and Thai.
What are some popular restaurants in Frederick MD?
Some of the popular restaurants in Frederick MD include The Wine Kitchen, Ayşe Meze Lounge, Family Meal, Volt, and Isabella's Taverna & Tapas Bar.
Do Frederick MD restaurants offer vegetarian and vegan options?
Yes, many restaurants in Frederick MD offer vegetarian and vegan options, including The Orchard, The Perfect Blend Cafe, and Kloby's Smokehouse.
Are there any restaurants in Frederick MD that are open late?
Yes, some restaurants in Frederick MD are open late, including JoJo's Restaurant & Tap House, Café Nola, and Bushwaller's.
Can I make reservations at Frederick MD restaurants?
Yes, many restaurants in Frederick MD allow for reservations to be made online, via phone, or in-person.
What is the price range for restaurants in Frederick MD?
The price range for restaurants in Frederick MD can vary widely, with some casual eateries offering affordable options, and some fine dining establishments charging higher prices.