What are some attractions and activities in downtown Frederick?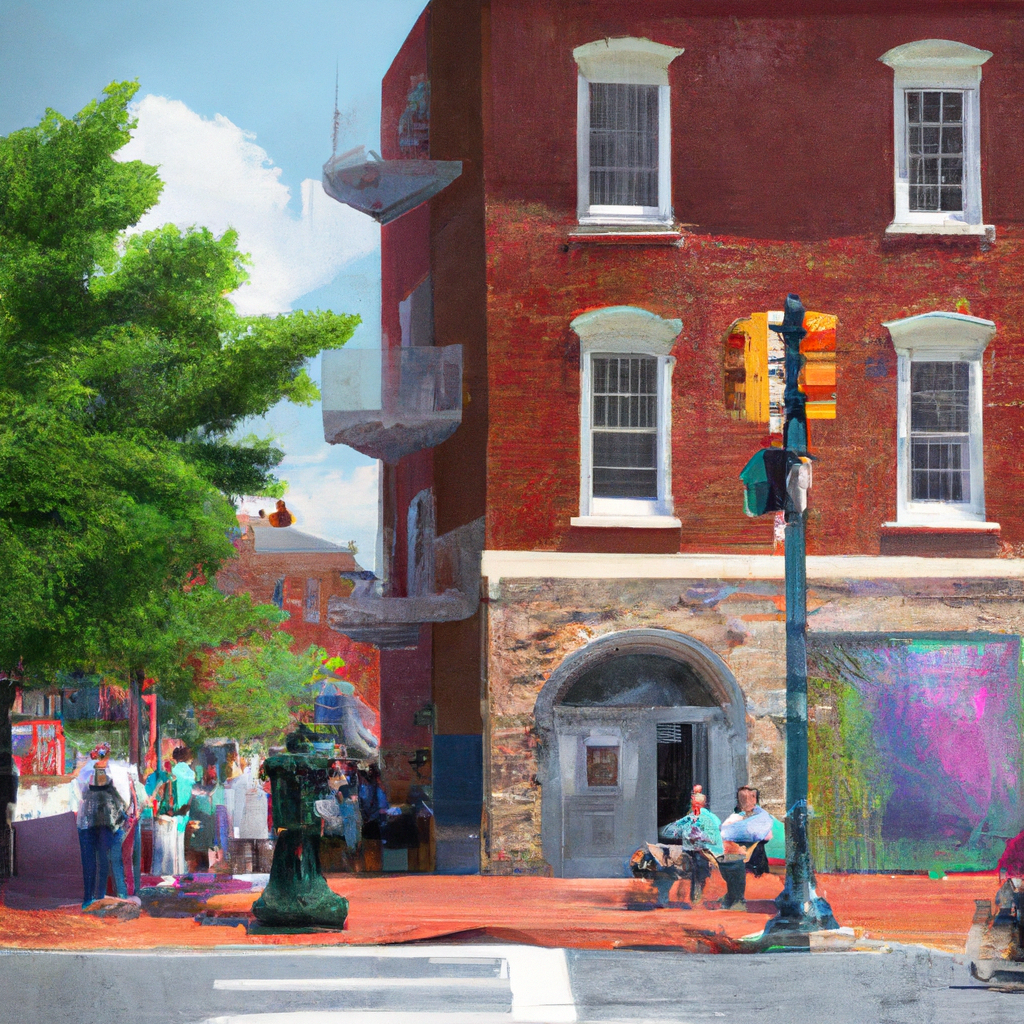 Top Attractions in Downtown Frederick
To explore the top attractions in downtown Frederick, the solution lies in visiting the National Museum of Civil War Medicine, enjoying art exhibits at Delaplaine Arts Center, exploring the historical architecture of Carroll Creek, strolling on Market St for unique shopping, and taking a self-guided ghost tour of downtown.
Visiting the National Museum of Civil War Medicine
The National Museum of Civil War Medicine is a must-visit spot in Downtown Frederick. It offers a unique perspective on the medical practices used during the Civil War. The museum has interactive exhibits, artifacts and objects, and an extensive collection of photographs and documents that illustrate the role of medicine during the war.
One can experience what it was like to work in a wartime field hospital, explore diverse areas such as triage stations or an ambulance car, and learn about various advancements in medical technology which have contributed to current medical practices. The museum also houses a recreated Union Surgeon's quarters complete with tools and instruments.
A visit to the museum is not only educative but also inspiring as one learns about the bravery, ingenuity, and resilience of soldiers at that time. The museum conducts educational programs for children and adults alike.
To top off your Downtown Frederick visit, be sure not to miss Baker Park – a vast well-manicured park with walking trails around Culler Lake where you can make memories for years!
Find your inner artist at Delaplaine Arts Center, where the exhibits are almost as beautiful as the confusion on your friends' faces when you try to explain abstract art.
Enjoying Art Exhibits at Delaplaine Arts Center
At the artistic hub of Downtown Frederick lies Delaplaine Arts Center. Immerse yourself in a plethora of contemporary and traditional exhibits curated meticulously to showcase both local and national art. Wander through stunning galleries where diverse works including sculpture, painting, photography and more take center stage. Allow yourself to be transported into a world of imaginative creativity by exploring this dynamic cultural center.
Delve deeper as you get up close with each breathtaking creation at Delaplaine Arts Center. Take advantage of the informative display placards providing insight into each exhibit's context, artist, materials, history and technique. You can also participate in workshops that take place throughout the year under expert guidance.
As you explore, don't miss out on the opportunity to engage with artists themselves through scheduled interactive experiences offered regularly at Delaplaine. Unleash your inner artist by attending inspiring lectures, demonstrations or simply chatting with creators during special events.
Pro tip: Before attending your visit to Delaplaine Arts Center, make sure to check their website for any upcoming exhibits or events so that you won't miss anything extraordinary.
Take a stroll through Carroll Creek and step back in time with the historic architecture, just don't try to take any selfies with the ghostly inhabitants.
Exploring the Historical Architecture of Carroll Creek
As you explore the picturesque Carroll Creek, you'll encounter an iconic collection of historical architecture that epitomize the area's rich heritage. The brick buildings and industrial structures mirror the town's 18th-century beginnings as a colonial crossroads. You can marvel at elegant Federal facades and ornate Victorian motifs along your way.
Don't miss out on standing behind "The DARCARS Stage" that retains significant cultural relics from its previous incarnation as a hay press factory. This building alludes to the important role Frederick played in agriculture, and how it shifted to industry by embracing creative reuse ideas.
Finally, have you ever heard of Spires brass hair? Architect Theron Potter showcased his technique for developing distinctive colors in these details during the late-1800s renovations on what today houses Smoothie King franchise. It is sure to blow your mind!
Sources: https://www.visitfrederick.org/blog/post/historic-downtown-frederick-city-hear-the-stories/
"Shop 'til you drop' takes on a new meaning on Market St – don't forget to bring a grocery cart!
Strolling on Market St for Unique Shopping
Market Street in Downtown Frederick offers a Unique Shopping Experience. Here are three reasons why strolling on Market St is a must-do for all visitors:
Market Street is home to eclectic boutiques and antique shops that offer unique finds for shoppers who love rare and one-of-a-kind items.
The charmingly restored historic buildings on Market Street are a sight to behold and add to the overall shopping experience.
Visitors can take breaks from shopping at one of the many cafés or restaurants along Market St, where they can try local food and beverages.
Apart from these experiences, shoppers can also enjoy street performances all around Market Street that add to the vibrancy of the area. Pro Tip: Visitors should wear comfortable shoes since strolling on Market Street is quite a workout!
Get ready to scream louder than the price of a haunted house when you take a self-guided ghost tour of Downtown Frederick.
Taking a Self-Guided Ghost Tour of Downtown
The Downtown Frederick area features an appealing self-guided tour of some of the city's most infamous ghost stories. This remarkable journey is made available in a spectral experience through the city's ghoulish past.
Uncover eerie tales of unexplained occurrences as you stroll through Frederick's historic downtown district.
The Self-Guided Ghost Tour of Downtown showcases places said to be haunted by restless spirits and uncanny events that will chill you to your core.
You can enjoy this self-guided tour at any time, taking full advantage of the extensive library written by local historians that provides all the necessary details.
The tour has a plethora of unique and unforgettable moments, making it an attraction that visitors must not miss. The buildings and landmarks are potent reminders of turbulent times gone by, with strange occurrences leaving people mystified.
Without a doubt, the Self-Guided Ghost Tour of Downtown offers plenty to intrigue and entertain visitors. But what is even more incredible is how these stories have become rooted in history, becoming pieces of folklore that have shaped the town's identity for generations.
Get your adrenaline pumping in Downtown Frederick with these outdoor activities that will make you forget about the looming existential dread.
Outdoor Activities in Downtown Frederick
To fully enjoy the outdoors in downtown Frederick, engage in various leisure activities in the revitalized parks and trails. Go biking and hiking in Carroll Creek Park, kayak and paddle-boat in Baker Park, jog and walk Frederick's scenic trails or have a picnic at Creek Side Park.
Biking and Hiking in Carroll Creek Park
This park is a haven for biking enthusiasts and hikers alike. With its sprawling green spaces, the park offers an amazing experience for all levels of outdoor enthusiasts. Tourists and locals flock to this area to relax and immerse themselves in the lush surroundings.
The Carroll Creek Park is a 1.3-mile linear park located within downtown Frederick. This park is equipped with paved trails that can be utilized by avid bikers and hikers seeking a challenging adventure or by beginners looking for a scenic stroll. With several bridges over the creek, visitors can enjoy breathtaking views of the park's flora and fauna.
Experience nature at its finest with unique details such as seeing wildlife up close, including ducks on the creek and butterflies. The multiple art installations make it an easy-going place for walkers who want to slow down and take in their surroundings while exploring new areas of their city.
For those seeking other activities, pedal boat rides are also available on weekends during summer months. Outdoor yoga classes are held weekly at one end of the canal -a great way to begin your day in peace and tranquility or get ready after a lengthy bike ride.
Consider renting bikes from any of the numerous vendors located across downtown Frederick; it not only adds convenience but makes sure you don't have to carry your equipment on public transportation or a car. Embrace serenity while exploring what Downtown Frederick has to offer via biking or hiking; it might well turn into your next healthy obsession.
Get your arms ready for an aquatic adventure in Baker Park, because kayaking and paddle-boating have never been this fun.
Kayaking and Paddle-Boating in Baker Park
Located in the heart of Downtown Frederick is Baker Park, a picturesque destination for kayaking and paddle-boating enthusiasts. Float along Carroll Creek or explore the lake while taking in stunning views of the park's natural surroundings.
The park allows visitors to rent kayaks and paddle-boats for hourly use at affordable prices. With a variety of rental options available, whether single or double occupancy, there's something for everyone. Be sure to bring a friend along and observe safety protocols as advised by the park officials.
For those looking for more excitement, Baker Park also offers stand-up paddle-boarding classes every Tuesday evening during summer months. Led by experienced instructors, participants can learn the best techniques while enjoying the beautiful weather on Carroll Creek.
Pro Tip: For an optimal experience, plan your visit to avoid peak hours during weekends when crowds are high and it may be crowded on the waterways.
Whether you choose to jog or walk, Frederick's scenic trails will take your breath away…literally.
Jogging and Walking on Fredrick's Scenic Trails
For fitness enthusiasts, Frederick is home to many scenic jogging and walking trails, providing a refreshing way to stay active. These routes feature picturesque views of nature, historic landmarks and colourful street-scapes that run across downtown Frederick. These trails are perfect for individuals seeking rejuvenation outside of their home or gym amidst the stunning landscape.
Not only jogging or walking takes you through various natural attractions of Frederick but also affirms its architectural significance. Some popular trails include the Carroll Creek Linear Park trail, consisting of a 1.3-mile U-shaped path surrounding a canal with 80 water jets in different light colors, emitting patterns in sync with music played along the creek. Furthermore, Baker Park offers more than 27 acres of green space, with a trail network suitable for running and jogging while enjoying beautiful vistas.
Frederick's outdoors also offers additional activities like inline skating at Baker Park's skate park and disc golf at Middletown Memorial Park. Take advantage of these fun sports options! Nothing like a little fresh air and a relaxed game of Russian roulette with your picnic basket at Creek Side Park.
Enjoying a Picnic at Creek Side Park
Picnicking beside the serene creek at a park in downtown Frederick is a delightful experience. Here's everything you need to understand about enjoying a picnic by the creek.
Choose from several grassy areas near the creek where you can spread your picnic blanket
Unpack your picnic basket and feast on scrumptious food while enjoying the river's peaceful music
Take in stunning views of nature, go for a walk or play games in the park
Bring along sunscreen, hats, and comfortable clothing to avoid harmful sun rays
Clean up after yourself by placing trash in designated bins so that others may enjoy the space too
Friendly parks with accessible facilities allow visitors with disabilities to enjoy picnics alongside their peers
A popular spot for family outings and romantic getaways alike, Creek Side Park offers much more than picnicking opportunities. Take advantage of this perfect escape when seeking respite from everyday life.
Amidst its natural beauty lies an interesting history. It was once a polluted site that underwent substantial cleanup efforts. Today, it stands as one of Frederick's greatest achievements towards environmental preservation and restoration.
Why settle for just food and drink when you can have a culinary adventure in Downtown Frederick?
Food and Drink Activities in Downtown Frederick
To explore the culinary delights of downtown Frederick with immersive activities, turn to the section on food and drink. This section will guide you through the top food and drink activities in downtown Frederick. From sampling local breweries and wineries to discovering hidden food gems in Frederick's side streets, indulge in a Frederick food tour, or savoring the local cuisine scene, this section has everything you need to get started.
Sampling Local Breweries and Wineries
Discovering the Local Breweries and Wineries in Downtown Frederick is an exciting activity that attracts many visitors to the area. Whether you're a beer or wine enthusiast, there's always something to sample and enjoy.
A Table For Sampling Authentic Local Beverages provides a list of popular breweries and wineries in Downtown Frederick. The table includes their name, location, contact information, and popular drinks available at each venue. Here are a few notable options for sampling unique local beers and wines:
| Brewery/Winery Name | Location | Contact Information | Popular Drinks |
| --- | --- | --- | --- |
| Attaboy Beer | 400 Sagner Ave #100 | (301) 358-5332 | Brazen Red Ale |
| Flying Dog Brewery | 4607 Wedgewood Blvd | (301) 694-7899 | Raging Bitch IPA |
| Red Heifer Winery | 12840 Red Heifer Winery Ln | (301) 473-0609 | Barnstormer Red Wine |
In addition to traditional beer and wine tastings, some of these venues offer live music events, private tours, and food pairings. Visitors can expand their palate with unique flavors while gaining insight into the brewing process from knowledgeable staff members.
For an even more immersive experience, consider booking a room at one of the bed and breakfasts nearby. These cozy accommodations provide easy access to all the local attractions in Downtown Frederick.
True Fact: According to a recent survey conducted by Visit Frederick, the downtown area has seen a substantial increase in tourism since the opening of several new breweries and wineries.
Get ready to loosen your belt and expand your taste buds on a Frederick Food Tour that will leave you feeling satisfied and slightly remorseful.
Indulging in a Frederick Food Tour
Enjoy the Best of Downtown Frederick's Food and Drink Activities
Downtown Frederick is a renowned destination for food lovers. Its cuisine is an eclectic mix of flavors that appeals to all tastes. When considering a tour, indulge in a food adventure that offers the best of Frederick's culinary landscape.
Head downtown to Wildfire Pottery where you can sample homemade pasta at Retro-Metro.
Explore the famous Carroll Creek Promenade with its charming restaurants like Hometown Harvest Kitchen, which focuses on farm-to-table fare.
Stop by Wine Kitchen on the Creek to enjoy fine wine from an extensive collection, paired with delicious small plates.
A unique feature of exploring the culinary world in Downtown Frederick is experiencing local chefs' innovative approach towards traditional dishes and learning about their creative techniques. Such an experience provides gastronomic pleasure and cultural insight into Downtown Frederick's rich history.
Did you know? Competizioni di Gelati, a US National Championship for gelato makers, takes place annually in Frederick, Maryland.

Ditch the diet and indulge in Downtown Frederick's savory bites – your taste buds won't regret it.
Savoring the Local Cuisine Scene
As a food enthusiast, exploring the culinary scene in downtown Frederick can be an exquisite and stimulating experience. With locally sourced ingredients and several options to choose from, one can savor the unique flavors of Frederick's cuisine.
From historic restaurants serving traditional American dishes to innovative modern-themed cafes, every corner has something new to offer. The vibrant streets are decorated with local food trucks, cozy eateries and markets offering artisanal cheese, wine, and beers. The thriving industry caters to all dietary preferences with numerous vegan/vegetarian spots.
If you want a unique experience, try attending local food festivals offering special themed menus or taste-testing events—a great way to sample different dishes in a bustling atmosphere.
To fully-experience Frederick's cuisine scene, we suggest trying everything from iconic Maryland crab cakes variations at Shuckin' Shack Oyster Bar & Grill or Delaplaine Arts Center's Wine Down Fridays where guests enjoy wines paired with tastings or crafted light bites but maintain social distancing norms at all times.
In Downtown Fredrick, no matter your craving or preference, exploring the diverse culinary delights of the area is guaranteed to leave you satisfied!
Prepare to be pleasantly surprised by the delicious treasures lurking in the side streets of Frederick, just don't blame us for the food coma that may follow.
Discovering Hidden Food Gems in Frederick's Side Streets
Hidden Culinary Marvels in Frederick's Backstreets
Tucked away from the lively main streets of downtown Frederick are several undiscovered culinary treasures waiting to be explored. Here's a glimpse of hidden food gems that await your indulgence!
Embark on a gastronomic journey by visiting The Wine Kitchen, which offers an exclusive collection of exquisite wine and a diverse menu that caters to all palates.
The North Market Pop Stop is a quaint place with unique offerings such as popcorn indulgence, cotton candy creations and homemade ice cream with local ingredients.
Come taste the freshest brews at Rockwell Brewing Company, where you can try out a variety of beers made on-site while chomping on their delicious snacks served in cozy ambience.
Dive deep into French cuisine by paying a visit to Le Parc Bistro, which thrives on dishes crafted with locally sourced seasonal produce.
Still hungry? Head over to Cakes to Die For, where you will find palate-pleasing cakes and pastries baked fresh daily using premium ingredients.
Don't miss these hidden foodie paradises nestled amidst Frederick's side streets. With unique offerings and authentic flavors, they bring an experience worth seeking out.
Unwind Over Drinks in Downtown Frederick
Beyond cafes and restaurants lies another world of unusual drinks and spirits that enriches the nightlife scene in downtown Frederick. Sip away your worries at bars like JoJo's Taphouse or McClintock Distilling where eclectic drinks with creative twists dominate the menus.
Missing out on these extraordinary food and drink experiences would be unfortunate for any visitor or local. It's time to venture beyond the usual haunts and discover novel flavors unique to this charming city!
"I may not remember the night, but I'll never forget the drinks in Downtown Frederick's nightlife scene."
Nightlife and Entertainment in Downtown Frederick
To explore the vibrant nightlife and entertainment options in downtown Frederick, dive into this section on 'Nightlife and Entertainment in Downtown Frederick' with fun and exciting sub-sections, including dancing to live music at the Blues Club Underground, playing arcade games at Spinners Pinball Arcade, watching the latest movie releases at the Lyric Theater, and singing along to your favorite tunes at Main Street USA Karaoke.
Dancing to Live Music at the Blues Club Underground
The Blues Club Underground presents an electrifying atmosphere where live music performances are the primary source of entertainment. This venue is a perfect location for those who love to dance while enjoying their favorite bands. Blues Club Underground has a unique ambiance that allows guests to relax and unwind within the downtown scene.
The club offers a diverse selection of genres from jazz, rock to blues, and even more. With its live music performances, patrons can enjoy comfortable seating areas or take it up close with the artists on the dance floor. The club attracts renowned musicians from all over, which makes it an ideal place for music enthusiasts.
Located in the heart of Downtown Frederick, Blues Club Underground is not just an entertainment destination but also a cultural hub, placing guests right in the middle of some of Maryland's most exceptional local talent. This electrifying club is easily accessible by different modes of transport and provides ample parking space nearby.
Pro Tip: Reservations are highly recommended at this popular club as the demand is quite high during peak hours.
Get your game face on and leave your social skills at the door, it's time to dominate at Spinners Pinball Arcade.
Playing Arcade Games at Spinners Pinball Arcade
If you're exploring Downtown Frederick and searching for fun nightlife activities, Spinners Pinball Arcade is the perfect destination to try your hand at arcade gaming.
Enjoy a fascinating collection of over fifty classic pinball machines and arcade games.
Choose between different genres of games, including fighting, sports and racing.
Spinners offers an exclusive VIP room for private parties or events that can be held upon request.
Many arcades only offer video games, but Spinners prides itself on its vast collection of classic pinball machines. Their unique selection creates an atmosphere that blends the past with present-day entertainment.
If you're looking to switch things up while visiting Spinners Pinball Arcade, consider trying out some of their customer-favorite suggestions:
Challenge your friends to a tournament-style game where losers buy drinks first – this encourages some healthy competitive spirit!
Take advantage of their nighttime discount pricing offered three hours before closing time so you can play more without breaking the bank.
Purchase a monthly unlimited membership pass if you plan on making frequent visits which can save on costs in the long run.
Overall, playing arcade games at Spinners Pinball Arcade is a must-see experience in Downtown Frederick for gamers of all ages and abilities.
Get ready to have your mind blown (and your popcorn spilled) at the Lyric Theater's latest movie releases in Downtown Frederick.
Watching the Latest Movie Releases at the Lyric Theater
Escape to the World of Cinema at the Historic Lyric Theater
Experience the excitement of new releases at the historic Lyric Theater – a downtown gem that has been entertaining audiences since 1894. With its newly renovated interior, state-of-the-art screens and sound system, and comfortable, plush seating, this theater transports you to a magical world of cinema.
Steeped in history, this landmark building features a classic facade that belies its cutting-edge facilities. Casual moviegoers will appreciate the wide selection of films on offer at this theater, while film enthusiasts will delight in the extensive program of independent productions it is known for worldwide.
In addition to the unique experience offered by the Lyric Theater, you can indulge in one of Downtown Frederick's many restaurants or bars before or after your cinematic adventure. Our top pick? The Mediterranean-inspired oases basking under streetlights on Patrick and Market Streets beckon with their diverse menus and inviting ambiance.
Prepare to showcase your vocal range and your friends' lack of pitch perception at Main Street USA Karaoke.
Singing Along Favorite Songs at Main Street USA Karaoke
If you are looking for a fun and lively activity to do with friends, Main Street USA Karaoke has got you covered. Indulge in singing along favorite songs atop their vibrant stage, where you can channel your inner rockstar with thousands of songs to choose from.
Enjoy an extensive library of songs featuring various genres and artists.
Choose from ample seating options that suit your group size and budget.
Sip on drinks while you sing from their impressive bar menu.
Capture memorable moments on camera in front of the venue's photogenic mirror walls.
With a trendy ambiance and state-of-the-art equipment, Main Street USA Karaoke provides entertainment unlike any other. Be sure to plan your next event or night out around one of their private rooms or enjoy open-mic nights in the main space.
Unwind after singing along to your favorite tracks by checking out the chic restaurants and bars in the area. According to local sources, Main Street USA Karaoke is frequented by regulars who praise the wide variety of song choices and impeccable atmosphere.
Get ready to explore the Southeast side of Downtown Frederick, where the attractions are hotter than a jalapeno pepper eating contest in the middle of summer.
Southeast Downtown Frederick Attractions
To explore the southeast downtown Frederick attractions, the solution is to discover the culturally rich East Patrick Street, tour the religious landmarks of southeast Frederick, appreciate southeast's art and music scene, and walk with history at the African American Heritage Cinem and Park.
Discovering the Culturally Rich East Patrick Street
East Patrick Street in Downtown Frederick offers a culturally abundant experience for visitors who are curious about the city's history. The street is home to some of the most iconic landmarks and establishments of the area.
One can explore unique shops, boutiques, and galleries that will cater to all kinds of interests, including antiques, art, and crafts. For foodies, East Patrick Street offers a diverse range of dining options from authentic Mexican cuisine to farm-to-table American dishes.
Don't miss out on visiting notable historical sites like the Roger Brooke Taney House or stop by the Community Bridge Mural to witness Frederick's stunning public art scene. Take a stroll through historic houses and gardens or visit one of the liveliest neighborhoods nearby.
In 1948, East Patrick Street witnessed a horrific train collision due to heavy fog that resulted in multiple fatalities. It is said that even today, people hear ghostly train whistles in the area around midnight.
Looking for an alternative to burning incense? Take a tour of Southeast Frederick's religious landmarks and let their peaceful vibes cleanse your soul (just don't forget to wear shoes).
Touring the Religious Landmarks of Southeast Frederick
When exploring Southeast Downtown Frederick, visitors can discover various religious landmarks that offer historical and cultural significance to the area. From the iconic All Saints Episcopal Church to the serene Saint John The Evangelist Catholic Church, these landmarks serve as a testament to the role of religion in shaping the region's past and present. Each landmark features unique architectural elements and offers guided tours for those interested in learning more about their history.
The serene Saint John The Evangelist Catholic Church is known for its stunning stained glass window displays, depicting scenes from biblical stories. Visitors can attend mass or participate in guided tours to learn about the church's rich history.
One interesting fact is that All Saints Episcopal Church was built in 1813 and has since become one of Frederick's most significant landmarks.
Southeast's art and music scene: where you can appreciate the beauty and noise in equal measure.
Appreciating Southeast's Art and Music Scene
In the vibrant southeast area of Frederick, MD, there are several opportunities to explore the local art and music scene. The unique mix of established venues and galleries alongside emerging artists creates a dynamic cultural landscape that is worth experiencing.
Visitors can start at the Delaplaine Arts Center, where they can admire contemporary works by local and regional artists. They can then head to 200 East Art Haus, which features an eclectic mix of styles ranging from avant-garde to traditional. For live music performances, Café Nola offers a cozy setting with intimate shows featuring both local and touring acts.
For those interested in the history of the area, a visit to the African American Resources-Cultural Heritage Society (AARCH) museum is a must-see. AARCH preserves African American heritage through exhibits, programs, events and community partnerships.
Overall, Southeast Downtown Frederick offers an unforgettable experience for anyone looking to appreciate the arts and music scene in this charming neighborhood. Get ready to walk through time and learn about the rich history of African American heritage at Frederick's captivating cinema and park.
Walking with History at the African American Heritage Cinem and Park
The African American Heritage Cinem and Park offers an enriching experience of heritage preservation. Explore the rich history of African Americans through exhibits and installations. The park is a cultural hub and platform for artistic expression, with diverse programs and events throughout the year.
Take a stroll in the park next to the beautiful Carroll Creek, which runs through Downtown Frederick's south-east side. The park celebrates significant achievements of African Americans' culture and their vital role in shaping our society. Engage with thought-provoking pieces that recognize various talents from music, sports, arts, industry, and civic leadership.
Unwind your senses while enjoying art from local artists placed throughout strategic areas in the park. These pieces exhibit a fusion of different cultures and capture humanity's essence across all walks of life while demonstrating unique interpretations that weave deep into our soul.
Don't miss out on exploring this gem nestled in Frederick's southeast downtown district. Visitors can partake as a family or solo – either way, you're guaranteed to walk away with knowledge about American history that will enrich your soul and connect you to an essential part of American culture.
Get ready to party like it's 1899 at Downtown Frederick's annual Victorian Festival.
Events and Festivals in Downtown Frederick
To learn about the exciting events and festivals in downtown Frederick, immerse yourself in this section that highlights how to celebrate the best local products at the farmer's market, experience the annual Frederick Wine Festival, enjoy the famous First Saturday event, and watch a movie under the stars in Baker Park.
Celebrating Frederick's Best Local Products at the Farmer's Market
The Downtown Frederick Farmer's Market is a celebration of the best locally-produced goods. The market offers ample opportunities to connect with local farmers, producers and artisans, and you can experience the visual appeal, scents and tastes of diverse products available in this vibrant marketplace.
The farmer's market showcases local produce, meats, seafoods, dairy products as well as handmade craft items.
Patrons can look forward to discovering unique small farms and community-supported agriculture (CSA) programs at the market.
Educational exhibits encourage visitors to learn about eco-friendly farming practices and sustainable methods of conservation.
The downtown location creates a lively atmosphere where citizens can socialize while engaging in conscious consumerism.
Families are welcomed by child-friendly activities like face painting, performances by musicians or animal shows, making it an ideal weekend outing option.
Talented artists from around the city also showcase their artwork at the farmers' market supporting entrepreneurship among locals.
Additionally, live cooking demonstrations by expert chefs are hosted at this bustling marketplace for food enthusiasts who are interested in learning more about regional cuisine or new culinary techniques.
The history of farmer's markets dates back several centuries where they served as a central income source for small farmers. This became prominent across Europe during medieval times when prices were set at fairs under government-controlled ordinances. Similarly, The Downtown Frederick Farmer's Market first opened its gates over twenty years ago for local produce vendors interested in selling seasonal crops directly to consumers. Today it remains an integral part of the town's culture – connecting people with fresh food options and fostering a sense of community through supporting each other's businesses.
Get ready to wine and dine at the annual Frederick Wine Festival – where the only thing better than the vino is the company of fellow winos.
Experiencing the Annual Frederick Wine Festival
The Frederick Wine Festival is an annual event that promises a rich experience in wine tasting, street food, live music and shopping. It is held in the heart of downtown Frederick where wine enthusiasts, foodies and music lovers converge to enjoy the finest offerings from local vineyards and wineries.
As you wander through the multitude of tents set up along East and South Market Streets, you'll discover a diverse collection of varietals to taste from lesser-known wineries as well as old favorites. A fusion of street foods ranging from gourmet hot dogs to sushi will not disappoint your taste buds. You can relax with friends on the bustling courtyard while sipping on sumptuous wines or participate in fun games and contests.
Apart from enjoying local talent shows and other entertainment options, you can also check out the one-of-a-kind shops on Market Street for unique souvenirs. Whether this is your first time or you are a returning guest, there's always something new to discover at the Frederick Wine Festival.
According to Visit Frederick- The Tourism Council of Frederick County, Maryland – over 25 different wineries make their way down to Market Street every summer for the festival, so visitors can expect endless varieties of wines to sample during their visit.
Join the masses at First Saturday and revel in the chaos of downtown Frederick's art, music, and food scene.
Enjoying the Famous First Saturday Event
For an unforgettable experience in Downtown Frederick, one must discover the well-known event that occurs on the first Saturday of every month. This event is popularly known as the 'Famous First Saturday' event.
To enjoy the Famous First Saturday Event, visitors can indulge in live music performances or relish food and beverages from various vendors. Additionally, they can participate in art exhibitions or interact with unique street performers.
Visitors can explore various retail outlets and shop for souvenirs or customized items. They can also stroll around and revel in the beauty of nature by visiting parks and gardens available nearby.
The Famous First Saturday Event is not just a market celebration; it is a cultural hub for people who love to witness different ideologies, traditions, and belief systems converging under one roof.
According to 'The Frederick News-Post,' this event occupies significant space in Downtown Frederick's tourism calendar and attracts tourists from all over the world.
In brief, if one wishes to experience Downtown Frederick's authentic vibe while savoring delicious food, enthralling music performances, art exhibitions, unique street performers, shopping for souvenirs and enjoying nature's scenic beauty – they must visit (and enjoy) The Famous First Saturday Event!
Who needs a movie theater when you can watch a film under the stars in Baker Park? Just remember to bring bug spray and a sense of adventure."
Watching a Movie Under the Stars in Baker Park
In the heart of Downtown Frederick lies a unique experience to enjoy movies at nightfall, under the constellation of stars illuminating above. Baker Park provides a serene ambiance that is unparalleled by any other venue, and every year, the locals look forward to "watching cinema outdoors amongst celestial bodies."
As soon as the sunsets on predetermined dates in summer, residents flock to Baker Park with their chairs and blankets in tow to secure a spot while they watch some of the best movies of all time on a massive inflatable screen. You can immerse yourself in blockbuster hits like Star Wars or Titanic while surrounded by nature, chirping crickets, and twinkling stars—the perfect escape from the hustle and bustle of city life.
The event takes advantage of natural light pollution filters provided by mature trees that line the park's perimeter. The organizers select their movie choices based on audience feedback gathered throughout the prior years.
This fantastic tradition began back in 2007 when it was being organized as part of Celebrate Frederick's summer events. Initially termed "Movies Under The Stars," it has since evolved into one of Frederick's most coveted traditions amongst its citizens. You can expect an excellent outdoor movie experience where you can both relax and feel alive under a sky full of twinkling stars!
Frequently Asked Questions
1. What are some popular attractions in downtown Frederick?
Answer: Some popular attractions in downtown Frederick include the Rose Hill Manor Park and Children's Museum, the Weinberg Center for the Arts, and the Frederick Visitor Center.
2. Are there any historic sites to visit in downtown Frederick?
Answer: Yes, downtown Frederick has several historic sites to visit, such as the National Museum of Civil War Medicine and the Barbara Fritchie House.
3. What outdoor activities are available in downtown Frederick?
Answer: Downtown Frederick has many outdoor activities, including hiking and biking trails, kayaking and canoeing on Carroll Creek, and golfing at the Clustered Spires Golf Course.
4. Are there any shopping options in downtown Frederick?
Answer: Yes, downtown Frederick has many shopping options, from mainstream retailers like Talbots and Urban Outfitters to independent boutiques and antique shops.
5. What events are held in downtown Frederick throughout the year?
Answer: Downtown Frederick hosts several events throughout the year, such as the In The Streets Festival, the Frederick Festival of the Arts, and the Maryland Craft Beer Festival.
6. Is there any nightlife in downtown Frederick?
Answer: Yes, downtown Frederick has several restaurants and bars that offer live entertainment, such as the Cellar Door Restaurant and Bar and the Blue Side Tavern.