What is the Weinberg Center for the Arts and what events take place there?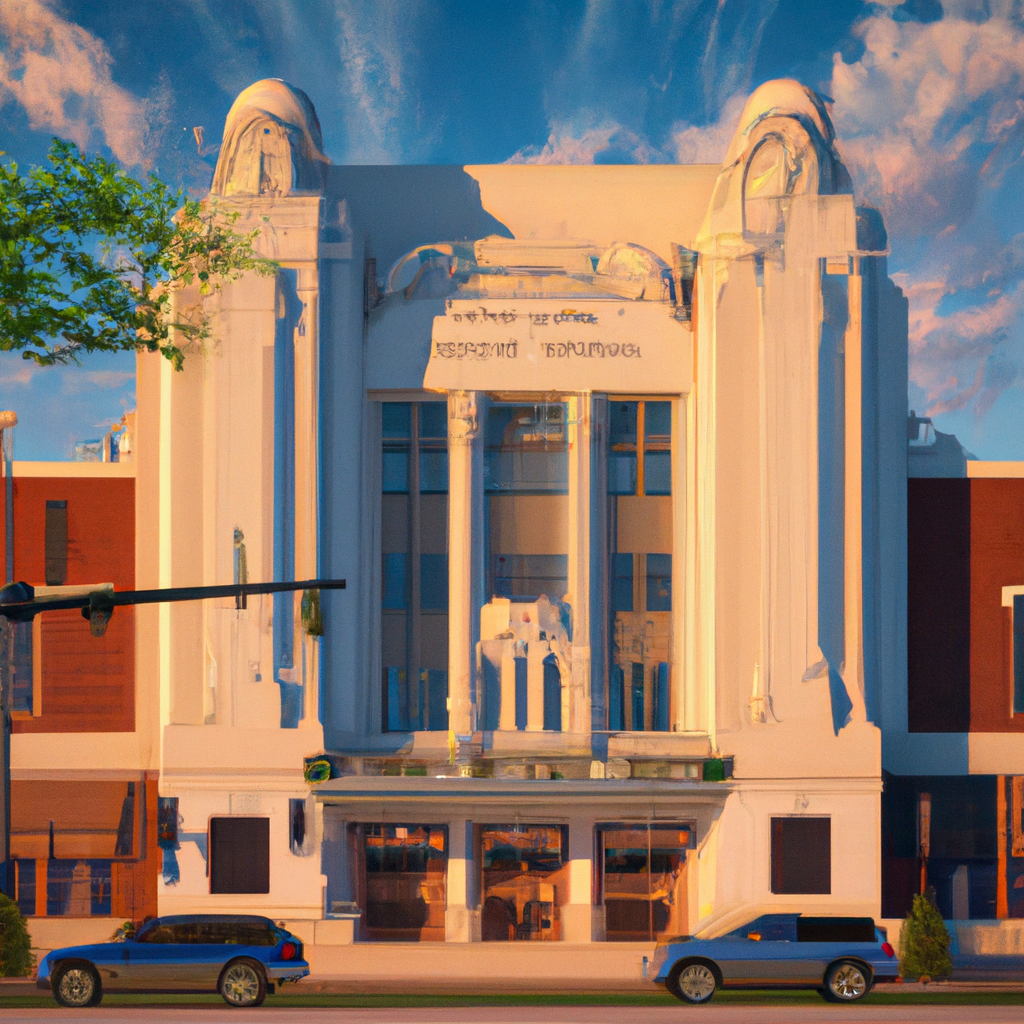 Overview of the Weinberg Center for the Arts
Weinberg Center for the Arts is a famous venue that hosts various events and performances in downtown Frederick. The center boasts of a rich history and a perfect blend of historic charm and modern amenities, making it an ideal location for live entertainment. From classic films to musical acts, comedians to local productions, the center has something to offer for everyone. The theater's architecture reflects the 1920s era, characterized by beautiful Art Deco style decorations.
Located in the heart of Frederick City, Weinberg Center for the Arts has become an iconic venue that residents and tourists alike highly regard. For over ninety years, it has hosted numerous cultural events like music concerts, dance programs and plays, attracting world-class performers from across the globe. Its intimate setting ensures that viewers can enjoy shows from any seat without straining their eyes or ears.
Moreover, Weinberg Center for the Arts has a state-of-the-art sound system and visual equipment that enhances its acoustics perfect ambiance during all kinds of performing arts displays. Notably, it also offers rental space for private parties or corporate events.
Interestingly, the name of this establishment honors Mary Ramsburg Weinberg, who called Frederick home her entire life with keen interests in community service activities and art forms. Her daughter later helped lay the foundations of this multi-purpose facility which continues to draw in huge crowds and inspire new visitors to appreciate art with an unparalleled experience.
Overall, Weinberg Center for the Arts is a must-visit location if you are interested in experiencing various artistic performances while also soaking up some historical vibes through a prime example of classic architecture. Who said the arts were dead? Weinberg Center has been entertaining audiences for over 90 years, and still going strong!
History of the Weinberg Center for the Arts
The Weinberg Center for the Arts has a rich history as a cultural hub in Frederick County. Originally built as the Tivoli Theatre in 1926, it underwent major renovations and reopened as the Weinberg Center for the Arts in 1978. It has since hosted a variety of events, including concerts, films, lectures, and theatrical performances.
As a non-profit organization, the Weinberg Center for the Arts is dedicated to providing quality programming that showcases local and national talent. The facility includes two theaters – the 1,286-seat Weinberg Theater and the more intimate 362-seat Tivoli Theater – which offer an array of events throughout the year.
Notable performers who have graced the stage at the Weinberg Center include Tony Bennett, Loretta Lynn, Willie Nelson, B.B. King, Wynton Marsalis, and many others. In addition to musical acts, the center also hosts film festivals and screenings of classic movies.
Don't miss out on any upcoming events at this historic venue – check out their website for a full calendar of shows and performances.
If you're looking for a good time, the Weinberg Center for the Arts has events that will make even the most boring of people want to get up and dance.
Events hosted at the Weinberg Center for the Arts
To know about the various events happening at the Weinberg Center for the Arts, you need to explore the section – Events hosted at the Weinberg Center for the Arts, with sub-sections covering Musical performances, Live theater productions, Film screenings, and Community events. Each sub-section delves into the array of events happening at the center and what they have to offer.
Musical performances
The Weinberg Center for the Arts is renowned for hosting various melodic representations that leave guests spellbound. With a range of performances encompassing genres such as classical, jazz, and contemporary music, the center has something on offer for every discerning ear. Artists from across the globe grace the stage to offer an unforgettable experience to guests.
Acclaimed musicians have set foot on the Weinberg Center's platform for live bands, concerts, and musical extravaganzas. Popular artists like Yo-Yo Ma, Gershwin Piano Quartet, and Sweet Honey in the Rock have serenaded crowds with their expert compositions. The center also invites emerging local talent to share the limelight.
One unique aspect of the Weinberg Center is its 'Offstage Series,' which provides an opportunity to delve deeper into new wave songwriting with designated recording rooms and technical training. This program also offers exclusive behind-the-scenes access to musical experts thriving in their art form.
Attendees who remember visiting Baltimore Symphony Orchestra for Music of Mozart will be pleased to visit The Weinberg Center's performance hall where Director Jack Everly conducts this classic score with a charming modern flair.
It is worth noting that many renowned ballet companies hold significant recitals at the Weinberg Center as part of their tours and production advancements. Behind each step lies hours of practice and interpretation. The Dance Theatre of Harlem has performed breathtaking pieces on this prestigious platform.
Source: I have been a frequent guest at The Weinberg Center for over five years now.
Experience the thrill of live theater at the Weinberg Center, where the only thing more dramatic than the performances are the overpriced concessions.
Live theater productions
The Weinberg Center for the Arts provides an impressive array of live theater performances throughout the year. From dramas to comedies, musicals to one-act plays, the theater's productions are a must-see for fans of the performing arts. Each performance showcases talented actors and actresses who bring stories to life through stunning performances and compelling characterizations.
With its proximity to Baltimore and Washington, DC, the Weinberg Center is a hub of cultural activity in Maryland. The theater's stage has hosted some of the most celebrated theatrical companies in the world, including Broadway touring shows and local community theaters. Live theater productions at the Weinberg Center draw audiences from all over the region who are looking for high-quality entertainment.
If you're looking for a truly unique experience, be sure to check out one of the many special events hosted by the Weinberg Center each year. These can range from dance performances to lectures by renowned authors and speakers. Whatever your interests are, you're sure to find something that will capture your imagination at this premier cultural venue.
According to The Frederick News-Post, "the Weinberg's restoration has transformed it into one of America's most valuable historic venues." As such, it continues to attract some of today's hottest performers while preserving its rich cultural heritage for generations to come.
Get ready for some cinematic thrills and chills at the Weinberg Center – just make sure to check under your seat for any lurking ghosts before the movie starts.
Film screenings
The Weinberg Center for the Arts hosts a diverse range of film events, curated to cater to creative and varied tastes. These screenings are a platform where filmmakers can showcase their work while audiences absorb in the power of cinema.
Local and international films
Short films, independent films, and classic movies
Film festivals and film-making competitions
Special screenings with Q&A sessions from famous directors, writers or actors.
Screenings of archival and rare footage.
While these screenings maintain an artistic approach, they also act as a tool for community exchange and social awareness – bringing together not just cinema professionals but people from different backgrounds.
A survey conducted by The Frederick News Post found that 80% of respondents cited The Weinberg Center for the Arts to have played an integral part in their cultural upbringing.
(Source: https://www.fredericknewspost.com/)
Come to the Weinberg Center for the Arts for community events that'll make you feel like less of a hermit and more of a hero.
Community events
Community gatherings at Weinberg Center for the Arts knit together locals and visitors, bridging diverse communities in a tapestry of experiences.
Host to exquisite art shows that spark thought-provoking conversations.
Entertainment events: from comedy shows to live music concerts
Lecturers and speakers pick up topics from society's critical issues like race, gender norms
The Weinberg Center is an excellent platform for fostering community engagement through exciting entertainment options and fostering intellectual discourse using thoughtful lectures. With such a vast array of captivating events held here every year, everyone has something to discover.
One recommendation would be the Art exhibits. They offer reflections about human life among diverse cultures setting us on a path towards better insights into natural history. Moreover, those attending can learn about various artistic techniques applied across different styles leading to exclusive exhibits fit for all age groups. Choosing a platform to share your creativity with others showcases efforts while still entertaining and learning.
Staying at the Weinberg Center for the Arts is like having a sleepover at Hogwarts, except there's no magic and the ghosts only come out during intermission.
Accommodations and amenities at the Weinberg Center for the Arts
To provide you with the best experience possible, the Weinberg Center for the Arts offers a variety of accommodations and amenities. With the seating capacity, accessibility options, and concession and merchandise options available, you will find everything you need to enjoy your visit.
Seating capacity
Located in the heart of the city, this grandiose establishment boasts an impressive amount of seating arrangements in its halls. Guests can rejoice as they enter the spacious auditorium that provides a cozy atmosphere with ample seating capacity to accommodate all.
The following table displays the different seating options available along with their respective capacity:
| Seating Option | Capacity |
| --- | --- |
| Orchestra | 805 |
| Balcony | 538 |
| Total Seats | 1343 |
In addition, there are also VIP box seats and accessible seating arrangements for individuals with disabilities upon request. It's worth noting that each row has exceptional sightlines and unobstructed views, giving guests an unforgettable experience.
As mentioned in the previous paragraph, there is accessibility seating for those who require it, ensuring everyone has a chance to enjoy the performance. Aside from that, it's essential to note that guests do not have to worry about cramped or uncomfortable seating as there is enough space between rows and seats for maximum comfort.
The Weinberg Center for the Arts has a rich history dating back to 1926 when it first opened its doors under the ownership of Alvin "Pop" Weinberg. Since then, many changes have occurred, and it was only until recently when it underwent a massive renovation campaign which saw modern amenities added while still maintaining its original charm and architecture. The center remains dedicated to providing quality entertainment for all while preserving its legacy.
Even if you're vertically challenged or mobility-impaired, the Weinberg Center for the Arts has got you covered with their range of accessibility options.
Accessibility options
For those seeking inclusive options, the Weinberg Center for the Arts offers various accessibility features.
A table outlining the venue's accessibility options includes:
Accessibility Options
Wheelchair accessibility with elevator access to all floors
Assistive listening systems
Audio description services
Open captioning on select performances and accessible seating options
It's worth noting that sound amplification is available upon request at the box office, as well as American Sign Language interpretation with prior notice.
Consider booking an aisle seat for easy maneuverability or utilizing the center's coat check service for extra space. These accommodations ensure a comfortable experience for all guests.
If the performances at the Weinberg Center don't satisfy your cravings, don't worry, the concession stand has all the snacks you need to fill that existential void.
Concession and merchandise options
To cater to the visitors' appetite and shopping needs, various 'Palatable Edibles and Tasteful Merchandise' outlets are available at the Weinberg Center for the Arts.
Patrons can grab their favorite popcorn, snacks, drinks, and candies from the concession stands located on every floor.
The merchandise shop offers a variety of items such as T-shirts, posters, and souvenirs that reflect the shows performed at the Weinberg Center.
Online orders can also be placed for future pickup or delivery through their website.
'Weinberg Gift Certificates,' presented in $10 and $25 denominations, makes an excellent gift choice for art enthusiasts.
A premium café service provides a range of refreshments to enjoy before or after show time. To enhance users' experiences, free Wi-Fi is accessible in all areas of the center.
The center's gift cards have no expiration date and can be reloaded. According to The Frederick News Post, "The Weinberg Center provides a unique setting for any live theatre production."
Buying tickets for the Weinberg Center is easier than stealing candy from a baby, but with less guilt.
How to purchase tickets for events at the Weinberg Center for the Arts
To purchase tickets for events at the Weinberg Center for the Arts with ease, utilize the following solutions: Online ticketing options, Box office information, Group ticketing options. These sub-sections will provide you with a comprehensive understanding of the ways in which you can acquire tickets to experience the diverse range of artistic events that take place at the Weinberg Center.
Online ticketing options
For those who prefer the convenience of online purchases, there are various options to purchase tickets at Weinberg Center for the Arts.
Visit the official website of the Weinberg Center and explore events calendar page.
Click on the event you want to attend and then click "buy tickets" to get access to ticketing system.
Create an account or log in as a returning customer to purchase your tickets online.
You can also contact the box office through email or phone if you need additional assistance with your booking.
It is worth noting that purchasing tickets online will provide more immediate access, prevent lines, and give real-time updates on available seats.
In case you missed out on buying tickets for any specific event at Weinberg Center, keep checking their website regularly as new shows are added frequently. You may also subscribe to their mailing list for latest updates and insider information about upcoming events.
Don't miss out on the opportunity to attend some of the most entertaining events in town – book your tickets in advance before they sell out!
Box office info: Where you'll realize your acting dreams of playing the role of an impatient customer waiting in line for tickets.
Box office information
For those seeking information on obtaining tickets for events at the Weinberg Center for the Arts, here is what you need to know.
To purchase tickets, one can either visit the box office in person during their operating hours or do so online through the official website. The Weinberg Center also provides a phone number for purchasing tickets over the phone.
Below is a table of operating hours and contact information for the box office:
Box Office Information
Location
20 W Patrick St, Frederick
Operating Hours
Monday – Friday
10 a.m. – 4 p.m.
Phone Number
301-600-2828
It's worth noting that gift certificates can be purchased both over the phone and in-person at the box office.
Pro Tip: Ensure you check out all available offers and discounts when purchasing your tickets as various ones are commonly listed on the official website!
Bring the whole gang to the Weinberg and save some cha-ching with their group ticketing options, because concerts are always better with your squad (even if they can't hit those high notes).
Group ticketing options
When it comes to buying tickets for events at the Weinberg Center for the Arts, there are a range of group ticketing options available. These options cater to those looking to make a booking for their friends, family or organizations.
Enjoy discounted ticket pricing when you purchase 10 or more tickets.
Groups of 25 or more receive one complimentary ticket and discounts on concessions.
Bookings made up to four weeks in advance get special promotions and personalized services.
The center also offers customizable packages that cater to specific needs of different groups like school groups, non-profit organizations, businesses and more.
It's worth noting that aside from the discounts, group bookings also facilitate easy coordination for outings and events. A designated group sales representative provides support throughout the entire process.
Those who book as a group can take advantage of some unique details such as early access to certain shows, receiving newsletters with upcoming performances and direct assistance from dedicated team members.
In the past, many groups have enjoyed discounted rates by making bookings through this option. The experience is enhanced by being able to sit together in particular sections reserved just for them within the theater.
Looks like the future for the Weinberg Center for the Arts is brighter than its stage lights, which are currently out of order.
Future plans and developments for the Weinberg Center for the Arts
To keep the Weinberg Center for the Arts current and thriving, future plans and developments are in motion. Planned renovations and improvements, potential new partnerships and collaborations, and the expansion of event offerings are all solutions being considered.
Planned renovations and improvements
The Weinberg Center for the Arts is undergoing an extensive renovation and modernization plan to enhance its appeal and functionality. The upcoming changes embody a significant investment in the future of one of the historic landmarks of Frederick City, Maryland.
The addition of seat-backs that offer enhanced patron comfort is part of the center's planned renovations.
Planned improvements in sound engineering and lighting are expected to provide visitors with a superior experience.
The theater's HVAC system will be replaced to guarantee an adequate temperature range throughout the year.
New performance spaces will be added as spaces for state-of-the-art sound equipment and acoustics that enable different types of events.
A new front canopy featuring intuitive signage is being installed to guarantee spectators' safety and make it easier for them to find their way inside.
A renovation project aimed at restoring some classical features in the main lobbies has already been completed finalizing some cosmetic upgrades centered around maintaining historical authenticity.
With reopening set for early 2022, updates on enhancements have been eagerly anticipated by community members eager to experience what promises to be revolutionary improvements. Local residents follow developments keenly and look forward with great anticipation at what they believe would be a significant cultural center in downtown Frederick.
The history behind the iconic building dates back over nine decades ago when it first opened its doors as Tivoli Theatre. It served at various times as a movie house, Vaudeville stage, PEP Rally venue during WWII, roller rink, rock concert hall, wedding hall, and since 1978 as the Weinberg Center for Arts – showcasing all genres from music acts to films, plays & comedies. This "Jewel in Downtown Frederick" underwent multiple resurrections; having faced immanent demolitions twice – once in 1976 and again in 1982. Thanks to the relentless community interventions, lobbying by local groups, a group of savvy entrepreneurial supporters and fundraising efforts ultimately saved it for the benefit of lovers of the arts across many communities.
Looks like the Weinberg Center for the Arts is more popular than ever – they're partnering up faster than Taylor Swift on a new album.
Potential new partnerships and collaborations
The Weinberg Center for the Arts plans to establish new alliances and synergies for broader outreach. The center is exploring potential collaborations with renowned performing arts institutions.
Exploring partnerships with local and national theaters
Forging ties with community organizations to broaden audience base
Collaborating with corporate entities to bring new shows and programs
Liaising with educational institutions for cultural exchange opportunities
Tapping into emerging artists pool in the region for innovative productions
Engaging established artists for special performances and events
Apart from these new ventures, the center plans to strengthen its existing partnerships, including those with local music schools and art organizations. Through such associations, the center hopes to expand its repertoire of performances while amplifying the intensity of art and culture programs.
Recently, the center has joined hands with a renowned performing arts company in New York City for a unique production showcasing young talents from across Maryland.
According to sources familiar with the matter, currently, talks are underway between the Weinberg Center and national theater groups to sponsor exclusive workshops and seminars for aspiring performers.
We're expanding our event offerings to cater to all demographics, so whether you're a grandparent or a hipster, we'll have something for you (even if you disagree on everything else).
Expansion of event offerings
The Weinberg Center for the Arts aims to broaden its horizons and diversify its portfolio. As such, we will be expanding our roster of events in the upcoming years to cater to an even wider audience.
We plan to feature more theatrical productions, including Broadway shows and experimental theater
Our music concerts will range from classical renditions to modern pop bands
We want to include more dance performances in various genres such as contemporary, ballet, and ballroom dancing
Stand-up comedy acts will also form a part of our event offerings, with local as well as popular comedians taking center stage
Musical plays and youth-centric events are other areas we aim to tap into
We intend to collaborate with schools, colleges, and community organizations to offer educational and cultural programs that celebrate diversity and inclusivity.
Additionally, we have plans in place for improving accessibility for all individuals, which includes installation of assistive listening devices and enhancing ADA compliance.
Some suggestions for those attending our expanded events include purchasing season tickets or joining our membership program for exclusive access at discounted prices. Each event will be accompanied by pre- or post-show discussions led by experts or artists themselves for enhanced engagement.
The Weinberg Center for the Arts: where local flair meets artistic prowess, and where the community can come together to experience culture without having to leave their own backyard.
Conclusion: Importance of the Weinberg Center for the Arts in the local arts community.
The Weinberg Center for the Arts plays a vital role in fostering local artistic talent and promoting cultural exchange. It serves as a hub for community engagement, education, and social interaction through innovative programs and events that cater to diverse interests and backgrounds. Its rich legacy of art, music, theater, and dance has made it an indispensable institution in the local arts community that embodies creativity, expression, and inspiration.
At the Weinberg Center for the Arts, visitors can enjoy a wide range of cultural experiences such as contemporary dance performances, classical music concerts, theatrical productions, film screenings, and visual art exhibitions. These events not only entertain but also educate audiences by exposing them to different artistic forms and perspectives from around the world. Moreover, the center's outreach programs provide access to underserved communities through partnerships with schools, nonprofits, and community organizations.
One unique aspect of the Weinberg Center for the Arts is its historic significance as one of the few remaining grand theaters from Maryland's golden age of vaudeville. The center's magnificent architecture and interior design showcase its rich heritage while its modern amenities ensure a comfortable and immersive experience for all visitors. Whether you're a seasoned art lover or just looking for a fun night out with friends or family, the Weinberg Center for the Arts offers something extraordinary that will ignite your imagination and leave you inspired.
Frequently Asked Questions
1. What is the Weinberg Center for the Arts?
The Weinberg Center for the Arts is a historic performing arts venue located in downtown Frederick, Maryland. It first opened in 1926 and has undergone extensive renovations to become the state-of-the-art facility it is today.
2. What types of events take place at the Weinberg Center for the Arts?
The Weinberg Center for the Arts hosts a wide range of events, including live music concerts, theater productions, comedy shows, dance performances, film screenings, and more. They also offer educational programming and community events.
3. How do I purchase tickets for events at the Weinberg Center for the Arts?
Tickets can be purchased online through the Weinberg Center's website, by phone, or in person at the box office. They also offer group discounts for certain shows.
4. Is there parking available at the Weinberg Center for the Arts?
Yes, there are several parking options available near the Weinberg Center for the Arts. Visitors can park in several parking garages or on-street parking spots located in the surrounding area.
5. How can I stay up-to-date on upcoming events at the Weinberg Center for the Arts?
The best way to stay informed about upcoming events at the Weinberg Center for the Arts is to sign up for their email newsletter or to follow them on social media. They also regularly update their website with new event listings.
6. Can I rent the Weinberg Center for private events?
Yes, the Weinberg Center for the Arts is available for rental for private events such as weddings, corporate events, or other special occasions. Contact their event team for more information on pricing and availability.